What could be more exciting than Christmas in New York City? Come join us on our yearly adventure to the Big Apple to see some wonderful Broadway shows and enjoy the many sights in the city that never sleeps – New York, New York decorated in all her holiday finery!
This year we'll be staying at Row NYC, a boutique hotel with unmatched access to Times Square, Broadway Theaters, Rockefeller Center, and more. Museums, shopping and sightseeing abound, as well as a seemingly limitless selection of restaurants. You will love the spacious accommodations, plush amenities and wonderful service during our five wonderful days at Row NYC.

Monday, November 27 – We'll leave early in the morning in order to arrive in NYC by 4 PM. As requested, we have included additional "perks" this year. For example, we will enjoy a group dinner at Carmine's after we arrive and then walk over to Radio City Music Hall to see the world-famous Rockettes performing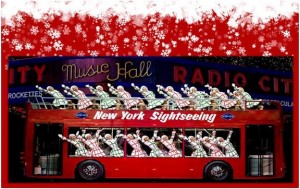 Radio City Music Hall's Christmas Spectacular. This show just seems to put you in the mood for the holidays no matter how many times you have seen it. What a great way to kick off our time in NYC! (Dinner included.)
Tuesday, November 28 – Enjoy a tasty American breakfast before we board our motor coach for a tour that will highlight the city. It's a great "NYC 101" tour and our guide, Michael, is fabulous.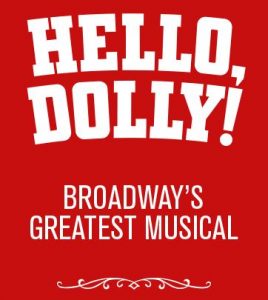 We'll get dropped off at the hotel and will have the rest of the afternoon to enjoy time on our own. (Breakfast included.)
Tonight, our optional show is Hello, Dolly starring Donna Murphy. This Tony-award winning production is a smash hit, and two-time Tony Award winning actress Donna Murphy has been performing as Dolly on Tuesday nights since June. The reviews have been fabulous and we've been able to get great tickets. Please contact us if you are interested in joining us on this night.
Wednesday, November 29 – Today is your day to do as you wish. The world is at your fingertips. You can shop, do some more sightseeing, visit a museum, take a horse and buggy ride in Central Park . . . the list is endless.
Our show today is a matinee performance of A Bronx Tale. The story by Chazz Palminteri was a hit Broadway play before becoming a hit movie starring Robert DeNiro. While making the movie, DeNiro decided that it was a story that was crying out to be a musical, and he made it happen. He directs this show along with four-time Tony Award winner Jerry Zaks, and the music is by the incomparable Alan Menken and Glenn Slater. It's a play that reviewers are calling a cross between "Jersey Boys" and "West Side Story". It's also a New York Times Critics Pick! "The kind of tale that makes you laugh & cry." What more could we ask? (Breakfast included.)
Thursday, November 30 – It's another great day to explore NYC with all of its glitz, glitter and glamour. Perhaps you'll go see the recording of a live television show, visit a Christmas market, or enjoy shopping on Diamond Row! Whatever you choose, I'm sure it won't disappoint.
This evening we'll see our last Broadway show, Come From Away. This play has received rave reviews and is sure to be one you won't ever forget. All of us can still remember September 11, 2001. For Americans, life changed in the blink of an eye. For a remote town in Newfoundland, Canada it also changed dramatically as 38 planes carrying over 6,500 passengers suddenly became stranded there.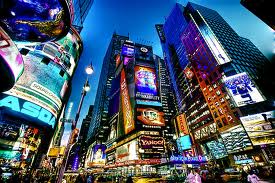 This is the amazing story of the people in the town who opened up their hearts and homes, and hosted an international community they did not know. The camaraderie that resulted from this event is extraordinary. The story is heartwarming. The play is phenomenal!!! (Breakfast included.)
Friday, December 1 – After breakfast we will begin our journey back home with excited discussions about all the wonderful shows we saw and the things we did. Christmas in New York City . . . it's a magical time! Come join us. (Breakfast included.)
---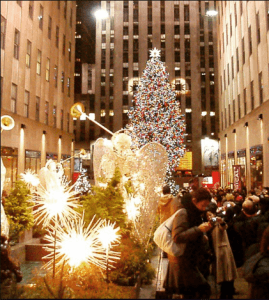 *The price of the trip includes: hotel, baggage handling, transportation, tickets to the Rockettes, tickets to two Broadway shows, Wi-Fi (on the motor coach and at the hotel), a breakfast each morning, dinner at Carmines, a three-hour tour of NYC, and trip cancellation insurance, bottled water on the coach, and lots of fun and laughter! If you would also like to see the optional play, Bandstand, let us know when you book the trip. We will call everyone who has indicated that they are interested in the optional play and let them know the price in the summer.
---
Pick-up Locations:
Franklin, VA (P.D. Camp Community College, 100 North College Drive, Franklin, VA)
Colonial Heights, VA (WalMart, 671 Southpark Boulevard, Colonial Heights, VA)
---
Travel Dates:
November 27 – December 1, 2017
Cost Per Person*:
Double: $1,512.00
Triple: $1,335.00
Quad: $1,234.00
Single: $1,980.00
Deposit:
$500.00 per person by May 17, 2017. ($250.00 is for tickets and is non-refundable. It will be covered by cancellation insurance if you must cancel after final payment.)
Final Payment Due:
August 24, 2017
---
Certified Collette Specialist
---
National Tour Association
---